Apparently, Spinel reminded her of Youre Killing Me Smalls Shirt when she was alive, and it played on emotions she hadn't considered for decades, if not a couple of centuries. As thanks, she gave Spinny her Mask of Many Faces and remarked that "It will be nice to affect the world again." She escorted Spinel to a platform, and told her to stay safe going back up to the city. Later, when Spinel and Fahren sailed off from Alaghôn, DM had me roll a perception check: Spinny then saw a stunning Elven woman standing on the docks, waving at The Saint Marie… Who had a blanket tied around her shoulders. The two of them have been friends and pen pals since then—Spinny even got Unthir to attend one of Tarael's parties! She doesn't realize that Unthir only went to the party to see Spinel, but the two of them got to dance, so that's all Spinny cares about. DM has gotten pretty wise to Spinny's antics by now, but every now and then I'll still surprise him!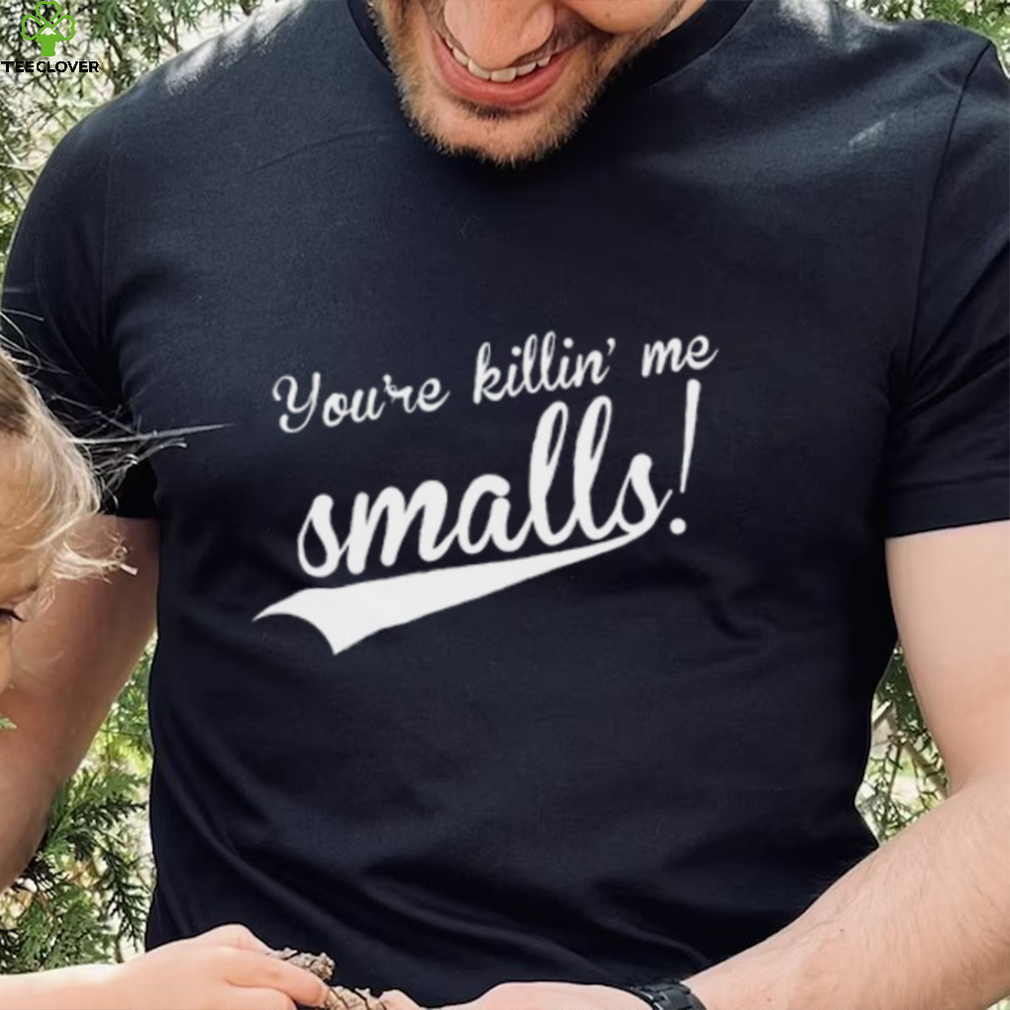 (Youre Killing Me Smalls Shirt)
If you aren't casting Eldritch Blast much of the time who cares? If you have the Misty Visions Invocation then you can completely mess up the sight of a set of Youre Killing Me Smalls Shirt either by "fake cover" so they can't see your allies or things dancing round their heads so they can't see your allies. This sort of advantage to attack them and disadvantage to their attacks combination is frequently worth more than a round of attacks and there isn't really a saving throw possible without burning an action. (It also annoys some DMs so take care). A Celestial Warlock gets +Cha 1/turn to fire or radiant damage at level 6 and gets the Sacred Flame cantrip. But in a low combat game where you use misty visions it's near enough. A Celestial Pact of the Tome Warlock can also pick up Green-Flame Blade as an extra cantrip meaning that from level 6 their melee attack does [Basic Melee attack] + 1d8 fire + Cha damage to their primary target and Cha to their secondary target. Throw in a magic weapon (and possibly the Shileileigh cantrip to use Cha to attack) and you're doing Eldritch Blast/Pact of the Blade damage without wasting an invocation.
Youre Killing Me Smalls Shirt, Hoodie, Sweater, Vneck, Unisex and T-shirt
Best Youre Killing Me Smalls Shirt
After the Technomancer gets revived and the last of the agents and real zombies go down, the Youre Killing Me Smalls Shirt starts to realize that the DJ is totally in on this. Not just that, but she's got power. The Technomancer analyzes her and… yep. She's not just a DJ, she's a Fey. A really honking powerful Fey, juicing the music and holograms in this place with magic. That's why she can control the crowd, that's why the holograms are such a problem for the party to navigate, that's why real zombies can suddenly just pop in. One way or another they're running low on resources, and this can't end until the DJ is disabled.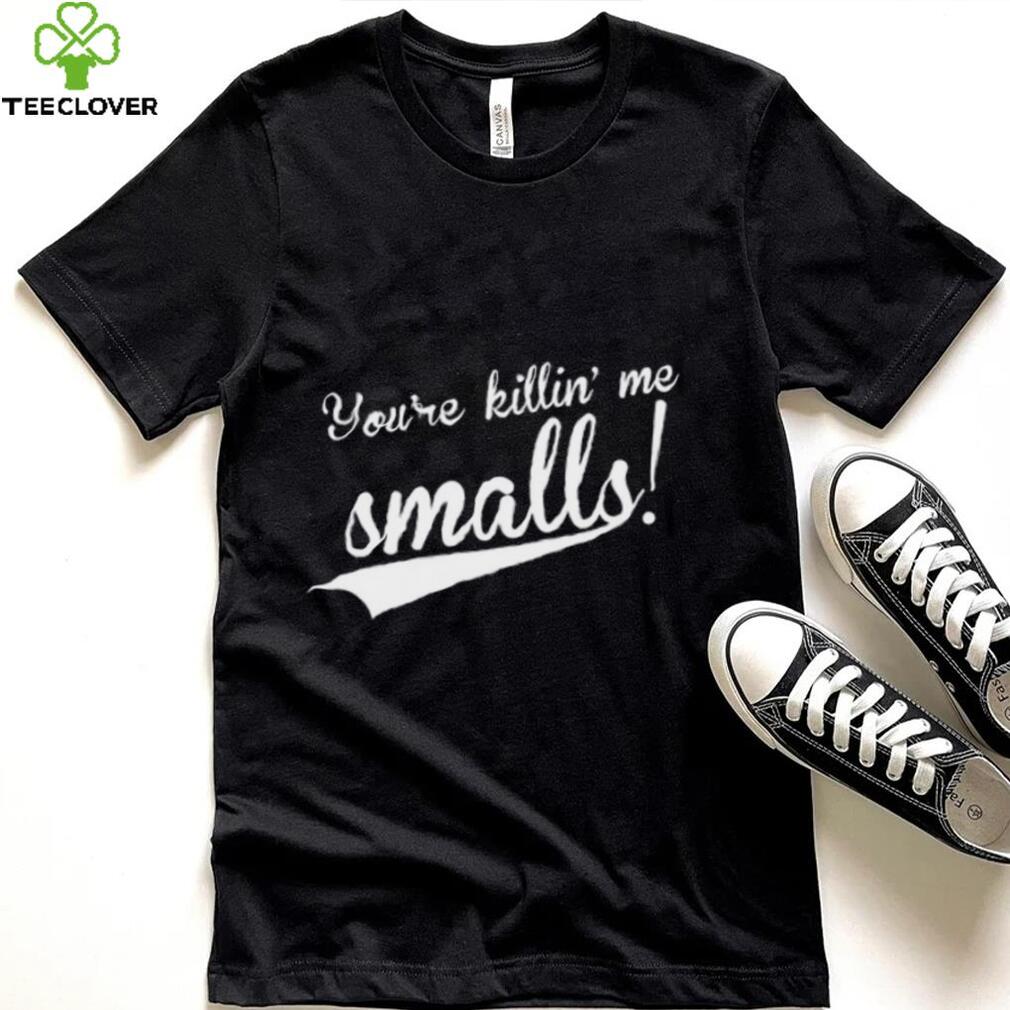 (Youre Killing Me Smalls Shirt)
I own several Ringo albums and singles. I really do love his voice. His lack of a Youre Killing Me Smalls Shirt doesn't bother me because he sounds great just where is range is. But that does limit the material he can do. I always thought he would have had more success if he did more recordings like Beaucoups of Blues. His voice is best suited for country music. Plus he loves country music! (Probably not current country music, though!) The thing is, without the Beatles, I wouldn't have had much of an introduction to him. I grew up in the '70s when Beatles music was a bit retro, and not on my radio stations all that often. That was the only exposure I had to the Beatles, until John's assassination in 1980. That sadly is what really led me to get to know the group. Now, with no Beatles, I assume Ringo's solo time in the spotlight would have still been the '60s and '70s. So my only exposure to him would have been as a child in the '70s. I wasn't much of a record buyer then. And by the early '90s, I'd completely shut down to music. So I would have grown up largely not knowing Ringo at all. But my husband did, and by extension so did I, play almost exclusively Johnny Cash, Eagles, Fleetwood Mac, Bowie, and Beatles as our girls were growing up from 2007ish on. No stupid nursery rhymes for my girls!