The Walking Dead tv series 12th Anniversary 2010
This character was a hit with the other players primarily because I played it like some kind of The Walking Dead tv series 12th Anniversary 2010 wood golem version of Abathur from Starcraft 2. It was focused purely on improvement; acquisition of new magics, acquisition of new schematics for articulation of joints or wood treatment processes to increase hardness of its blade hands, acquisition of political capital with those who had the resources and connections to provide further insight into how to self-improve, etc etc etc. This is why it was a rogue, after all. Assassination-for-hire can be lucrative and connect you with all of the right people. It was entirely indifferent to the plight of every living thing except: 1) Druids, as it maintained a deep and abiding affection for the druid that it had spent its first two centuries standing guardian over, 2) other Awakened creatures/plants, as it knew the pain and confusion that comes from being Rebirthed as a sentient object even when the Father-who-hath-Wrought-You is loving and kind, and 3) domestic house-cats, because it thought tiny fuzzy unstoppable murder factories were hilarious in concept and adorable in execution.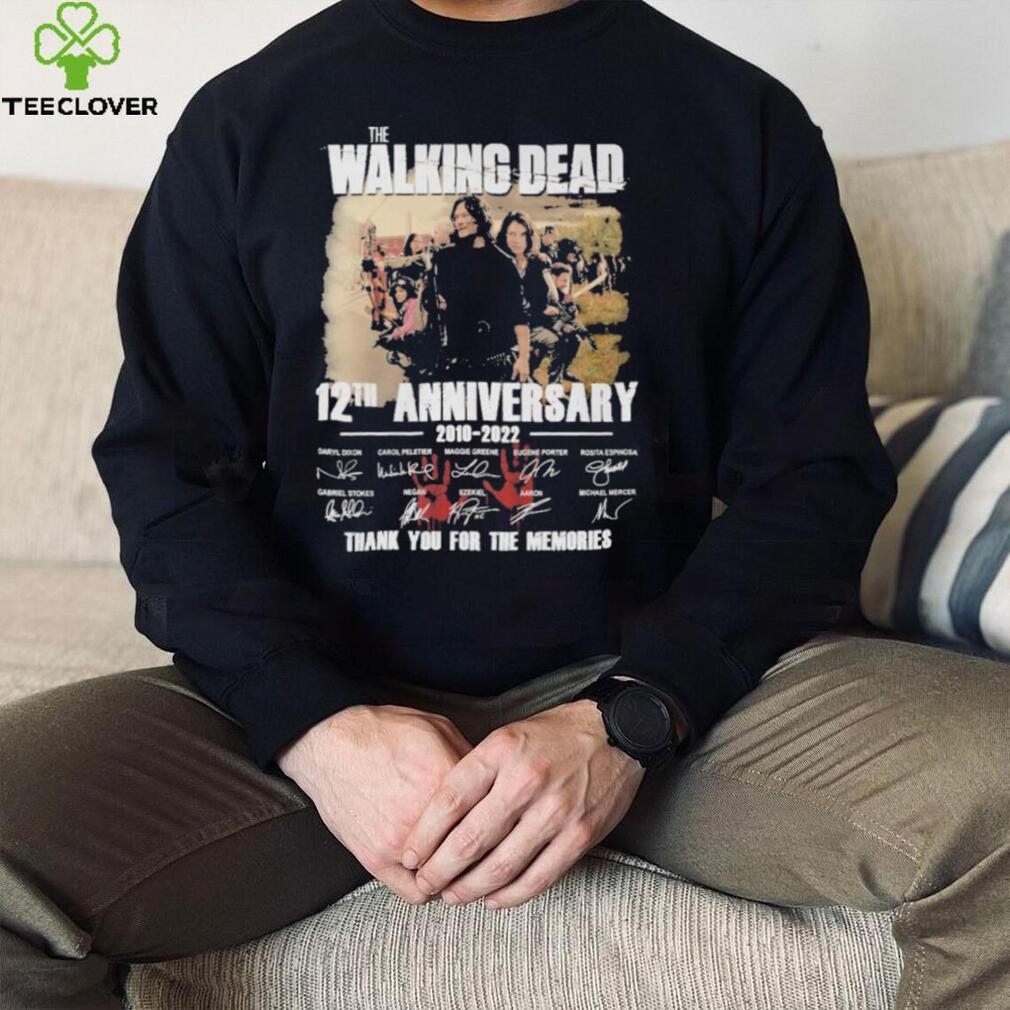 (The Walking Dead tv series 12th Anniversary 2010)
Partly to help put the Alchemist over and The Walking Dead tv series 12th Anniversary 2010 partly to help fill out the Downtime system, crafting gets a lot more time and attention in Pathfinder 2nd edition's rules. Characters possess or can find formulas for items, making the knowledge on how to craft an item a treasured commodity, and there exist a whole set of Crafting-based Skill Feats to open up options for magic items, alchemy, and specializations for specific types of items. It's about the best and most detailed crafting system there's been, helped by the fact that each item has a level and therefore translates easily into a DC.
The Walking Dead tv series 12th Anniversary 2010, Hoodie, Sweater, Vneck, Unisex and T-shirt
Best The Walking Dead tv series 12th Anniversary 2010
A further tip, talk to them before the game begins, and see what they want out of the story, and try to give it to them. My buddy is getting ready to start a The Walking Dead tv series 12th Anniversary 2010 game, and I've already given him my character backstory of a good cop slowly becoming a villain, and that I'd like him to have a slow redemption arc. My GM is excited by that idea, so along with whatever the main plot is, I'm going to be looking for moments for my ex-cop to make profound moral choices. Because that's what I want in addition to starships and blasters. You also have to be willing to follow where your players lead. I once had my players completely derail my campaign, totally by accident, but we were having so much fun with where the game was going I ended up setting aside my original campaign plot and restructuring it to focus on where they were taking things, and we had a blast.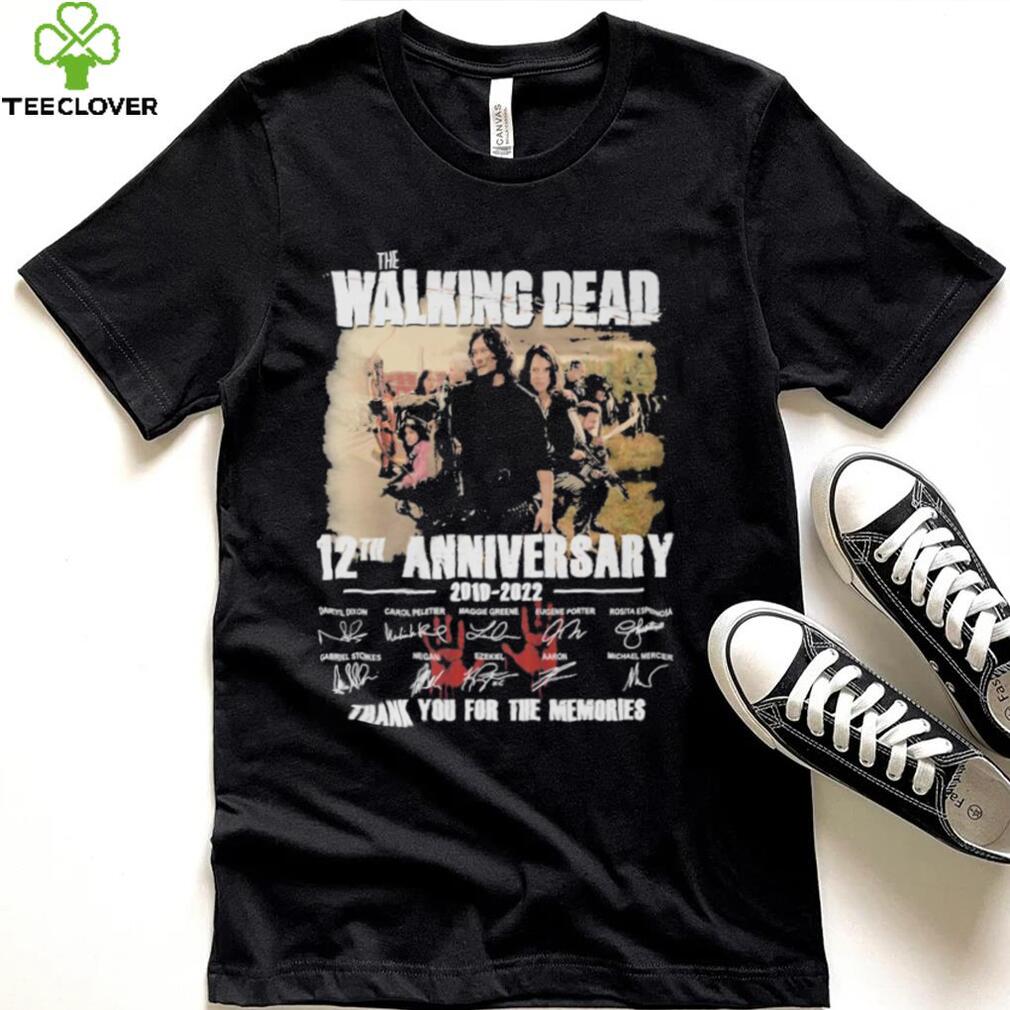 (The Walking Dead tv series 12th Anniversary 2010)
I was hoping Delores wouldn't become a The Walking Dead tv series 12th Anniversary 2010 aggressive rooster, as my recently deceased "Lance" had been, before passing on to "rooster heaven" with the assistance of a local coyote. The rooster I currently had, Gordon, was a sweet boy and was very happy to have Lance gone. Lance had been a fierce rooster who attacked literally every moving thing but the hens and me (displaying extreme good taste and discretion) and I was not prepared to live through as second several years of yet another "attack rooster". Neither were the neighbor dogs. Nor were the neighbors, for that matter. I really didn't think this would be a problem, as Delores was such a sweet rooster – showing no violence or aggression at all, and just wanted to sit on my shoulder (rather like a parrot) and look around. He'd snuggle against anyone's neck or in anyone's lap who would hold him and he adored being petted. Delores ran around digging for bugs in the lawn – but was just as happy sitting by the kitchen sink watching me trim vegetables or whatever. He made (as all my chickens did) a truce with the cats and was friends with the goats, horses and my other rooster, Gordon. They all slept together in the barn at night.