Scorpios will seek revenge if the injury to themselves is serious enough, and that also extends to the people they love. (Most people don't realize that Scorpio has a side to it that is extremely protective of those it cares about the most, even more than Leo. "Hurt my baby, hurt my Herbert in his gosh darn adorable froggy costume, and I WILL fuck you up. I don't just want you to pay for it, I want you to never FORGET what you did!! I want you to FEAR ME!!") They will be ruthless and smile in your face while hiding a Spike Vintage Retro shirt behind their back; they are good at hiding their anger until it is time to pounce. Though they also have a short fuse even up front, they also have the brains for planning long, long vendettas. They are one of the most intelligent signs of the Zodiac. When fighting with someone, their words will drip with venom and they will sting and sting and sting until their opponent is a jiggly lump of goo-they can go too far in this, which is what makes them one of the more dangerous signs to provoke. They go after your mind. They set traps to make you expose yourself in the cruelest way they can think of and they are experts at figuring out your weak spots. (Be thankful that Leo will just try to beat the crap out of you or send out his/her minions.
(Spike Vintage Retro shirt)
Before I get into that, though, I want to get my only complaint out of the way — The beginning was rushed. The first 20 episodes of '03 are condensed into only six episodes of Brotherhood. I liked a lot of things about '03 — it was ruined by its extremely unsatisfying ending, but I appreciated its slower buildup and entertaining filler. Things like the episode in which Edward helps Hughes defend the train on the way to Central, Ed's entrance exam, the "other Brothers Elric" episode, and the Siren episode were fun. Plot-important things became two-episode arcs that left more impact, such as the Cornello incident and the Nina incident (the latter hit a lot Spike Vintage Retro shirt in '03 than in Brotherhood). '03's version of Sloth was infinitely more interesting. (Wrath and Pride were basically swapped out for each other, and I like both for different reasons.) The episode introducing Yoki that was in '03 should have been in Brotherhood, since he becomes a member of the supporting cast later. In my opinion, the best way to watch the show going forward is to watch the 2003 anime up through episode 19, "The Truth Behind Truths," and then switch to Brotherhood episode 8, "The Fifth Laboratory" (while swapping out the backstory episode to be the Brotherhood version, so that The Truth is in there). The story basically picks up right where it left off, and then gets better from there.
Spike Vintage Retro shirt, Hoodie, Sweater, Vneck, Unisex and T-shirt
Best Spike Vintage Retro shirt
A boy his age, ran towards him and pulled him away from the edge. The brunette's body went limp as he felt the warmth of the boy. "Did you find him?" Another voice yelled from afar. The brunette suddenly felt sleepy as he embraced the blonde's warmth. The blonde looked down at the brunette, watching as his body relaxed. "I found him! He's down here with me!" The blonde yelled. The brunette heard the voices muffle and then disappear. The blonde sighed of relief as he watches the other boy fall asleep. The blonde picked up the brunette, stumbling a bit, as he felt the brunette, suddenly get heavier. The blonde grunted softly. He walked away from the canyon and stopped. He looked at a male with red-dyed hair. "So, that's him huh?" The redhead muttered, curiously. "Matt stop examining him and take him. He's heavier than a Spike Vintage Retro shirt."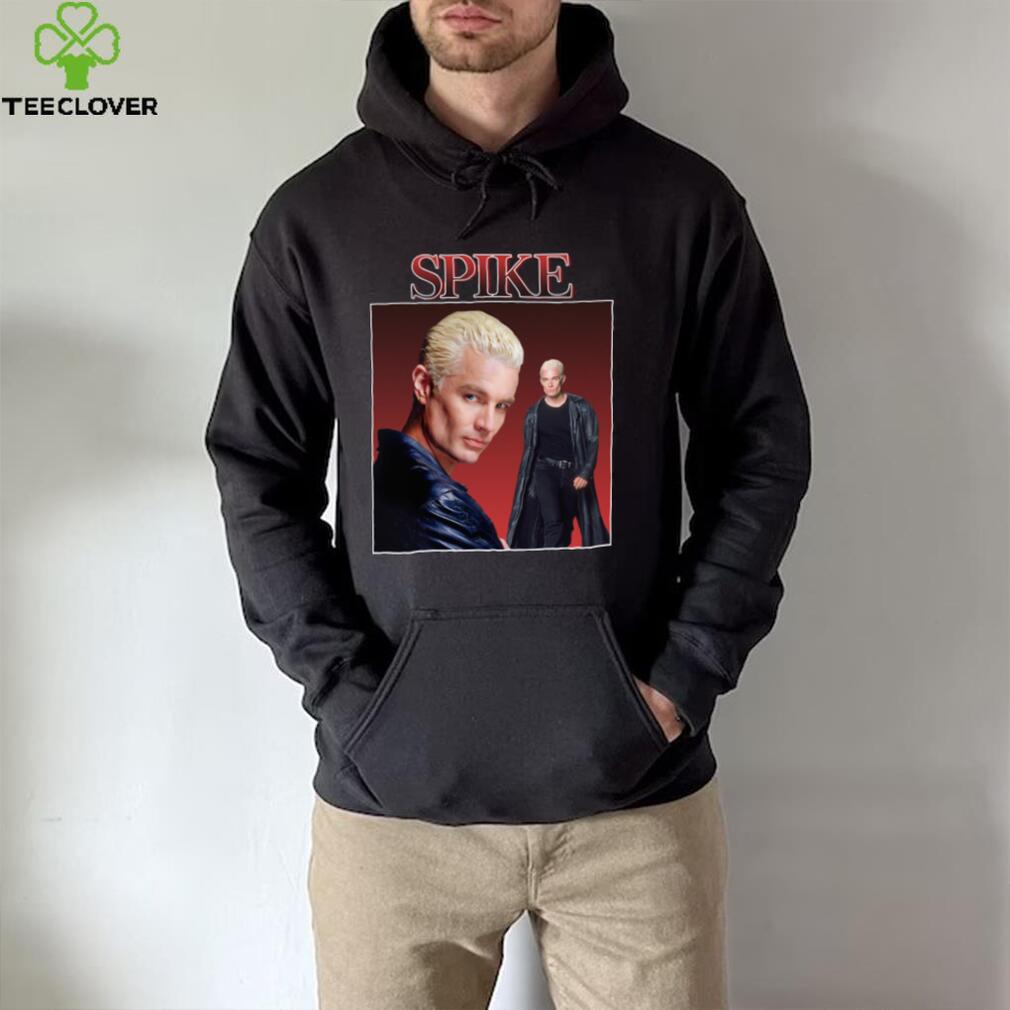 (Spike Vintage Retro shirt)
Roger was a junkie I met in rehab. He'd spent more time in prison than he did out. Mostly for bullshit parole violations. I don't even recall what his original sin was. He told me his stories. About his kid. About the time he got in a fire fight while cooking meth. About what it's like in prison. About how the homeless community was organized. And he was a good guy. Not that he didn't sometimes fuck up. I'd let him stay in a free room above my bar. Until we found needles in the backyard, where customers might wander. But, I really liked the guy. There was something very real about him. I remember one time when I was waiting for a date to show up downtown and was passing the time talking to Roger. The date approached, Roger saw her coming, and Roger disappeared to the side, as if he were just passing me, so my date wouldn't see me with a guy that looked like him. (Of course I said, "What the fuck are you doing?" and introduced them.) Oh yeah, I just thought of one other guy. New York Mikey. He was a homeless guy that we gave a Spike Vintage Retro shirt to in my bar. Always wore a Yankees cap. He would clean up the place after hours, usually stay drunk all the time, and we gave him a room upstairs that became a sort of nest of bottles and dirty blankets. Never showered. I think the shock would have killed him. He was one of the gang, though he was often quiet and aloof. At times, I would make efforts to "help" him. Rehab, education, whatever. But I would talk to the people who knew him best and they would just shake their heads. "He doesn't want to change." So I let it go. I'm pretty sure he's dead by now. When you own a neighborhood bar, you get used to watching people die. Some quickly, some slowly.