God country the fighting irish shirt
Apparently, Spinel reminded her of God country the fighting irish shirt when she was alive, and it played on emotions she hadn't considered for decades, if not a couple of centuries. As thanks, she gave Spinny her Mask of Many Faces and remarked that "It will be nice to affect the world again." She escorted Spinel to a platform, and told her to stay safe going back up to the city. Later, when Spinel and Fahren sailed off from Alaghôn, DM had me roll a perception check: Spinny then saw a stunning Elven woman standing on the docks, waving at The Saint Marie… Who had a blanket tied around her shoulders. The two of them have been friends and pen pals since then—Spinny even got Unthir to attend one of Tarael's parties! She doesn't realize that Unthir only went to the party to see Spinel, but the two of them got to dance, so that's all Spinny cares about. DM has gotten pretty wise to Spinny's antics by now, but every now and then I'll still surprise him!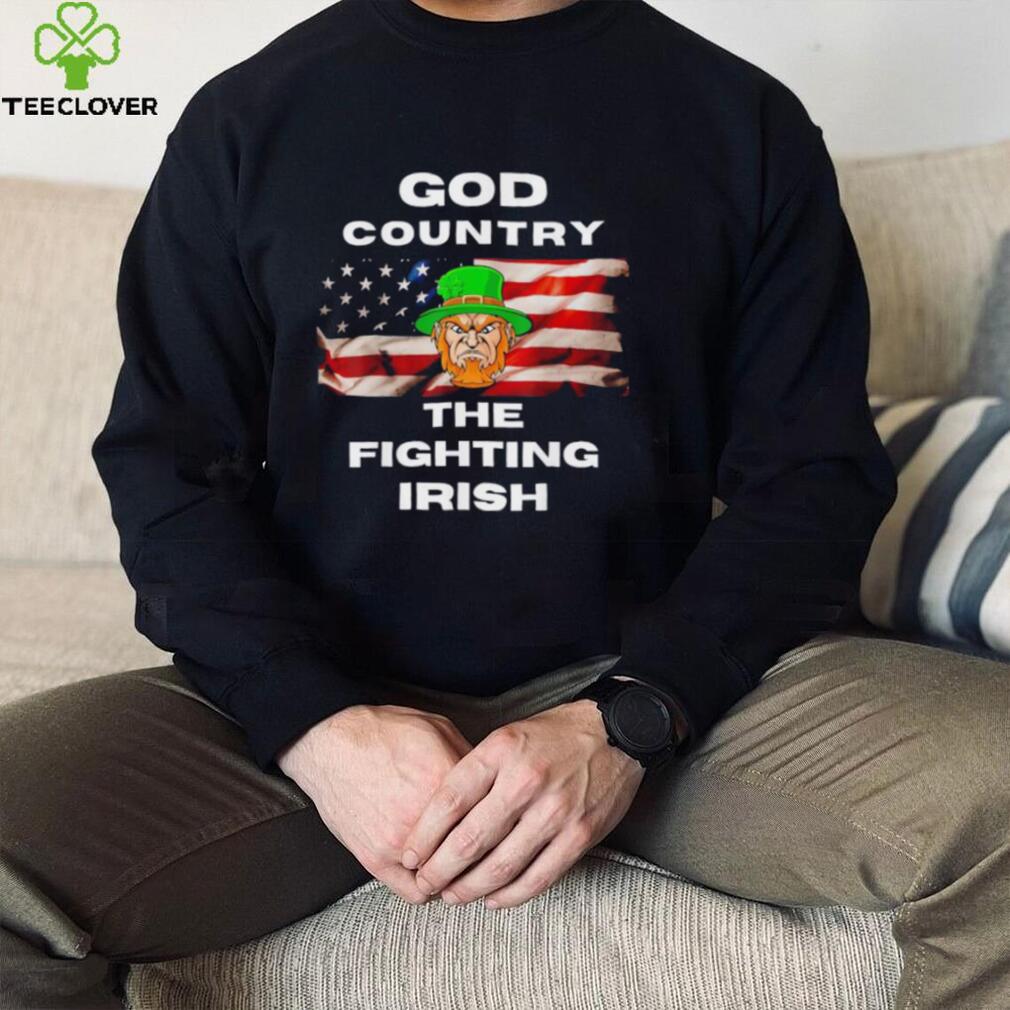 (God country the fighting irish shirt)
1: Let the players play and discover what they want: I was very stern in my young days. I had this one new player 'Vincent'. He was new to the God country the fighting irish shirt and starting at first level. I thought the best thing was to do was solo him and get him to higher level so he could compare with the other characters that were already higher. I put him on a 'crash course' of solo level gaining, which was what I thought he needed. Long story short — he lasted one day. Looking back, I played how I wanted but not how he wanted. I never asked him what he wanted to do in the D&D game. Soloing is fine if that's what they want. Ask your players what they want to accomplish in the D&D world?… Some players will want to tame a dragon. Some want to build a castle. Some players want to become a powerful Wizard and wield arcane spells. This all really depends. Find out what the players want, and see if you can entertain them… look! You find a Dragons egg! D&D has to be more about what the players want to do, and less about what the DM wants. Long term players are what fuel the game. Find out!
God country the fighting irish shirt, Hoodie, Sweater, Vneck, Unisex and T-shirt
Best God country the fighting irish shirt
There are about 300 Wizard Spells In the PHB. I have another 100 home brew spells released into my campaign (play tested). Xanathar's has another 68. That's around 500 Wizard spells. No way could all these spells ever exist in the same place at the God country the fighting irish shirt. You could shake the heaven and earth and it just won't happen. Once Wizards get big time, they start piecing all the spells together, into their spell books like puzzles. But the puzzle could never be compete. It's like playing D&D  you never really finish. Special Hidden spells and Homebrew: There are Wizard spells and then there are Wizard Spells. The special spells are well hidden  in a separate special spell book. When Wizards go to trade and exchange spells they never divulge all. Of course, they will keep their special spells on a separate list, scribed in a special book never to offer others: secret. This way, a powerful Wizard can hope to have at least a few spells other Wizards don't have. If a spell is specially researched or homebrewed, for example  you can bet that spell is kept secret and never exchanged with fellow Wizards  not for mere gold, over handshakes or over noon tea.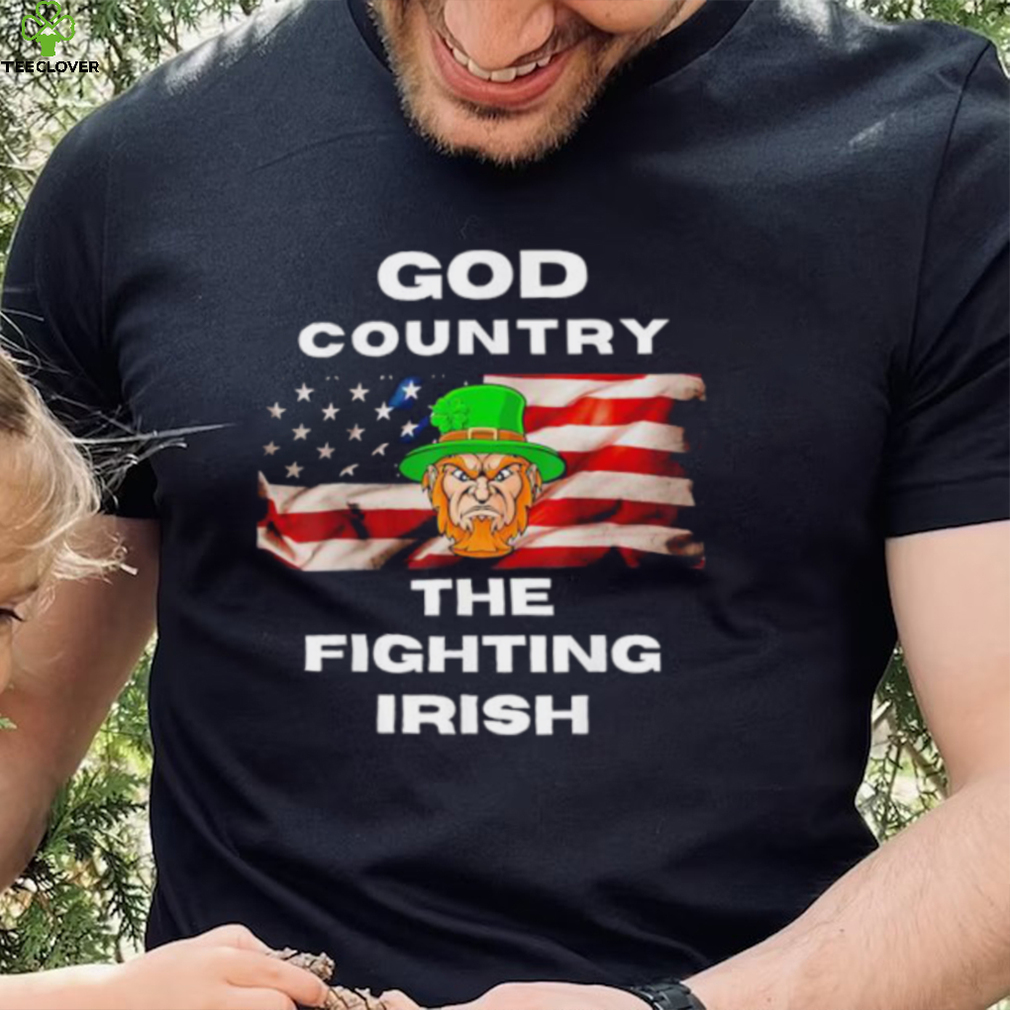 (God country the fighting irish shirt)
I own several Ringo albums and singles. I really do love his voice. His lack of a God country the fighting irish shirt doesn't bother me because he sounds great just where is range is. But that does limit the material he can do. I always thought he would have had more success if he did more recordings like Beaucoups of Blues. His voice is best suited for country music. Plus he loves country music! (Probably not current country music, though!) The thing is, without the Beatles, I wouldn't have had much of an introduction to him. I grew up in the '70s when Beatles music was a bit retro, and not on my radio stations all that often. That was the only exposure I had to the Beatles, until John's assassination in 1980. That sadly is what really led me to get to know the group. Now, with no Beatles, I assume Ringo's solo time in the spotlight would have still been the '60s and '70s. So my only exposure to him would have been as a child in the '70s. I wasn't much of a record buyer then. And by the early '90s, I'd completely shut down to music. So I would have grown up largely not knowing Ringo at all. But my husband did, and by extension so did I, play almost exclusively Johnny Cash, Eagles, Fleetwood Mac, Bowie, and Beatles as our girls were growing up from 2007ish on. No stupid nursery rhymes for my girls!