Cornpop was a bad Dude brewed with shirt
Tim Allen brings Christmas Cheer with him. This trilogy of delightful Xmas movies make even the Cornpop was a bad Dude brewed with shirt person smile and remember the joys of being young and looking forward to Santa Clause flying with his reindeer to each house on Christmas Eve. The first film, The Santa Clause, deals with a man, who has long disbelieved in Santa Clause- Father Christmas himself- until he is swept up and forced into being the Clause and his son becomes obbessed with Santa, despite everyone trying to tell him Santa doesn't exist- what! The sequel, The Santa Clause 2: The Mrs. Clause, deals with Santa needing to find a Mrs. Clause or else he won't be able to be Santa anymore! The threequel, The Santa Clause 3: The Escape Clause, deals with Jack Frost trying to take over the North Pole and become Santa himself. The trilogy is delightful, fun and perfect Christmas films for the whole family. No Christmas is complete without this film series.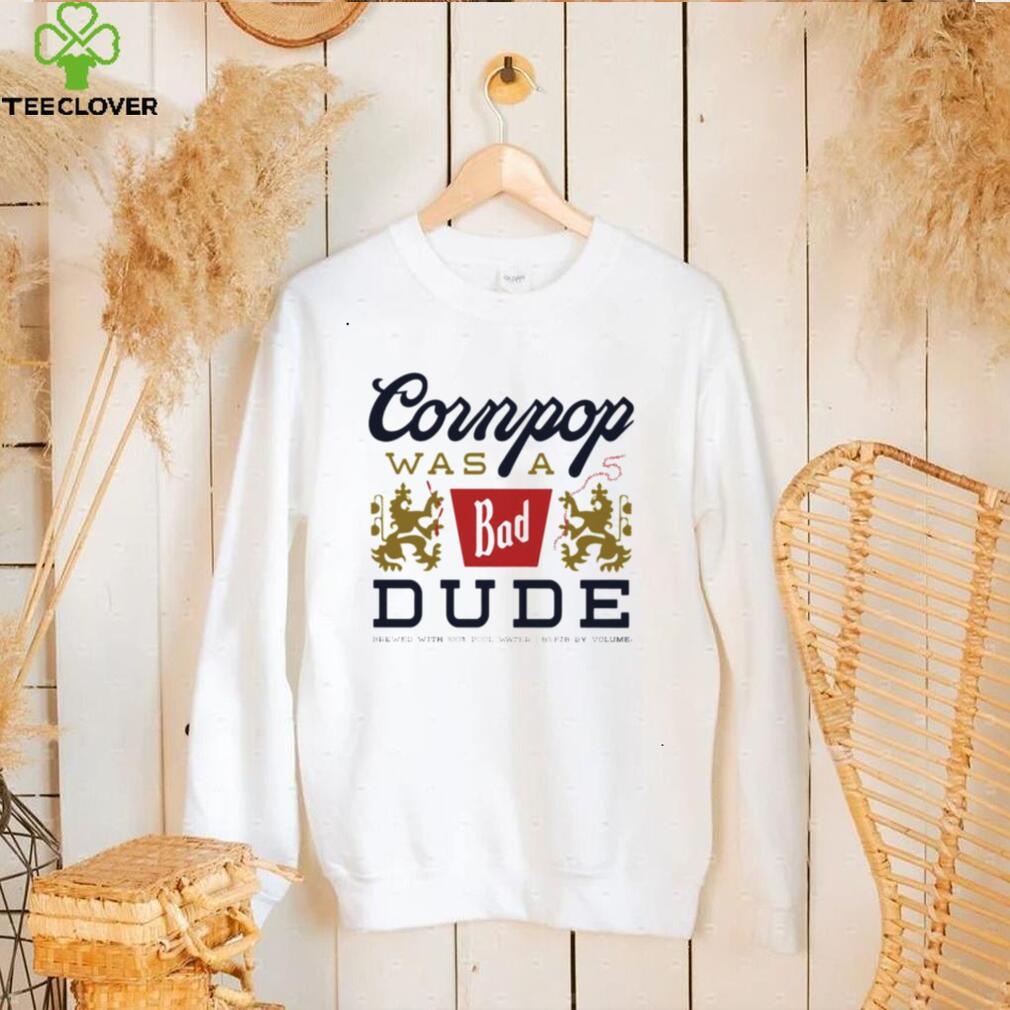 (Cornpop was a bad Dude brewed with shirt)
While many have argued that their gating of Skill Feats is what the real differentiating factor is between characters of Cornpop was a bad Dude brewed with shirt , I've found that the Skill Feats are often too situational for this to be the case compared with the baseline rolls. There is a kind of compositing that happens wherein your ability score will tend to be higher for skills that you're more invested in, so there will be a visible spread between the highly skilled and the relatively unskilled — but it feels like this spread is being contributed by the wrong factors. At the end of the day I'm still looking at a level 20 Wizard who's never benched a day in his life rolling at a +16 Athletics roll, able to handily and easily beat trained warriors, albeit lower-level ones, in martial arts forms that he's never trained in. Level 20 or not, that's kind of stupid.
Cornpop was a bad Dude brewed with shirt, Hoodie, Sweater, Vneck, Unisex and T-shirt
Best Cornpop was a bad Dude brewed with shirt
Huzzah! He tries to grapple the guard and Cornpop was a bad Dude brewed with shirt an attack. You rattle some dice around, not actually caring what they say as the guard "defends" himself. Barb's hooked his bindings around the guard's throat and is now using him as a meat flail. Why? Because you don't want these idiots to die, it's neat, and everything saner has failed. In the ensuing melee you rattle dice around some more, and press the Players just enough that they feel that they're challenged, yet still escape mostly intact. Now the key to this improvisation is that you have to work with what the players give you. If they do nothing, well, it's the gallows then. As long as they keep working the problem, keep giving them things to work with. And damnit, escape by meat-flail is better than anything I'd have come up with myself.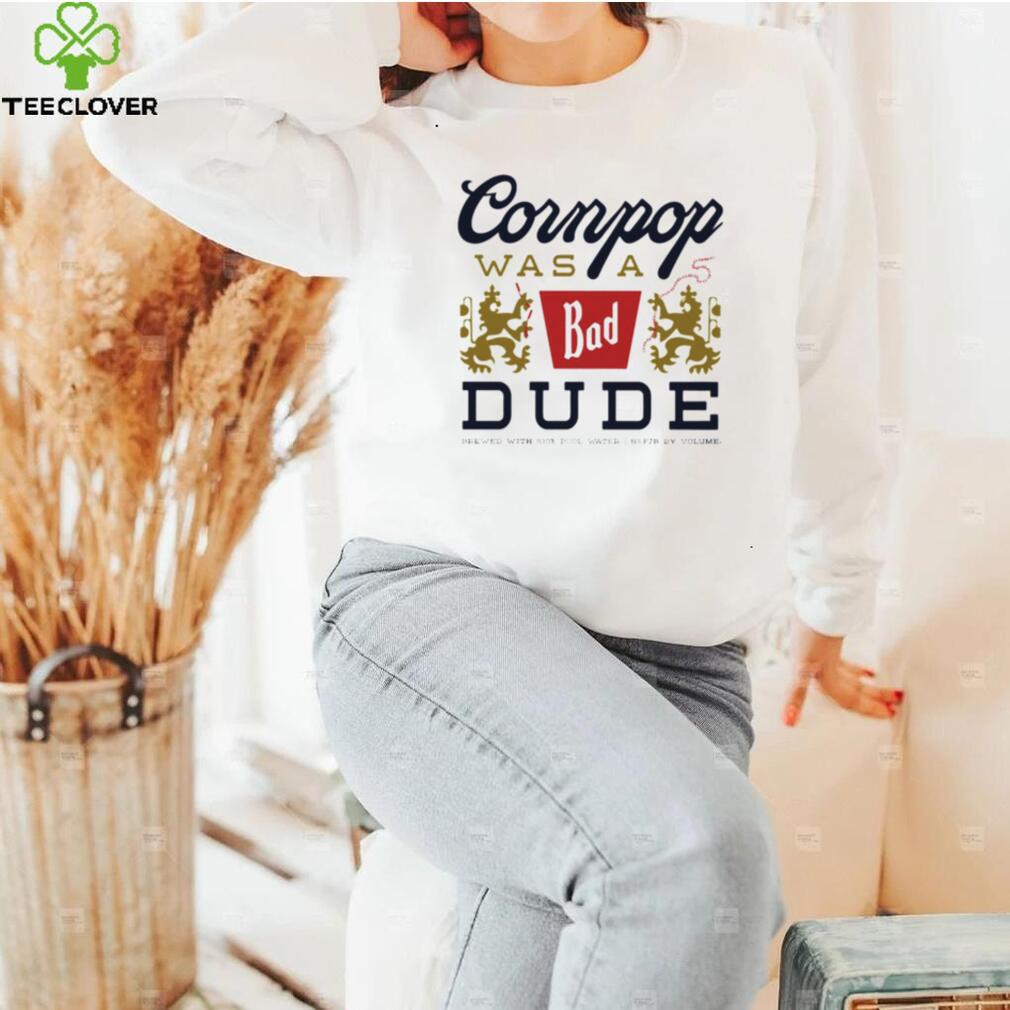 (Cornpop was a bad Dude brewed with shirt)
Entertainment: Dickson street is great, lots of Cornpop was a bad Dude brewed with shirt and good food. There is the Walton Arts Center which has top notch broadway events (musicals, plays, etc). TheatreSquared is also excellent for watching plays. The AMP (Arkansas Music Pavilion) has well known bands/artists every year. There is a Botanical Gardens. Believe it or not, we still have a drive-in theatre which plays current movies and is lots of fun. There is also a retro-arcade, bowling, skating rink, Locomotion (go karts, arcade, mini-golf), Gater Golf (mini-golf), several area Golf courses that are very nice, museums, and lots more. Outdoors: We are right next to the Ozark National Forrest, Beaver Lake, the Buffalo River, White River, Mulberry River, Devil's Den state park, the Ozark Highlands Trail (218 miles through seven counties), caving, rock climbing, hand gliding, scuba diving in Beaver lake, and countless more to do. There is an excellent paved trail system that stretches from south of Fayetteville to the Missouri border with lots of parks and side trails along the way. Everywhere you turn there is hiking, biking, canoeing, geocaching, etc. Enough to never be bored. Community: Excellent Farmer's Market, lots of community outreach programs, excellent public schools and some great private ones also (or so I've heard) Events: We also have lots of events in our area: Bikes Blues & BBQ, Joe Martin Stage Race, First Thursday (every first Thursday downtown), Fayetteville Foam Fest (Local Breweries, Food Trucks, Lots of Beer), War Eagle Crafts Fair, Block Street Block Party, NWA Naturals baseball games, Tri Sport Kid's Triathlon, Fayetteville Roots Festival, Lights of the Ozarks, Ozark Valley Triathlon, Halloween Monster Dash, Color Vibe 5K Run, Primal Challenge.