Army CH 47 Chinook Helicopter Ugly Christmas Sweater
The Mars explorer Nozomi passed 1,000 km from the Army CH 47 Chinook Helicopter Ugly Christmas Sweater of Mars. The Venus Climate Orbiter Akatsuki entered Venus orbit in a second attempt on 7 December 2015, making it the first Japanese spacecraft to orbit another planet, sixteen years after the originally planned orbital insertion of Nozomi. JAXA is also reviewing a new spacecraft mission to the Martian system; a sample return mission to Phobos called MMX (Martian Moons Explorer). First revealed in 9 June 2015, MMX's primary goal is to determine the origin of the Martian moons. Alongside collecting samples from Phobos, MMX will perform remote sensing of Deimos, and may also observe the atmosphere of Mars as well. As of January 2016, MMX is to be launched in fiscal year 2022. Even though there are not many successful interplanetary missions under JAXA's belt, JAXA has excelled in other space research such as asteroid sample collection program with Hayabusa or successful launching of solar sails.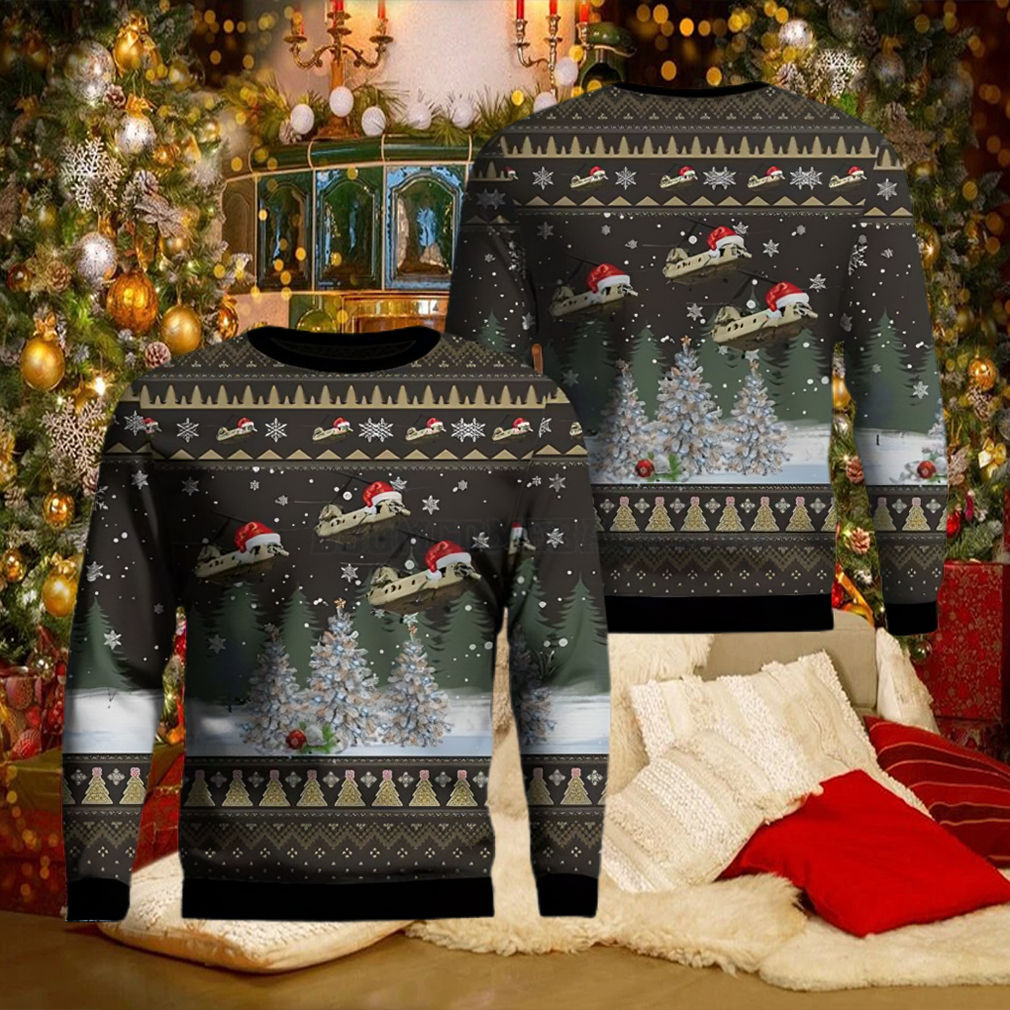 ()
My funny story is when Santa put himself on the naughty list. I travelled the Army CH 47 Chinook Helicopter Ugly Christmas Sweater home from work a few years ago, and I enjoyed all the Christmas lights and decorations every night. One house had a huge blow up Santa on top of the garage, with his arm raised, waving at you when the wind blew. One day I left work early, and it was still daylight. As I turned the corner on this windy day, I saw Santa was a bit deflated. He was slightly bent over and his arm had fallen down so that his hand was between his legs, and the wind was blowing a bit, and he was gently bobbing up and down, up and down, and he seemed to be enjoying himself entirely too much! I was crying with laughter, and I can never look at Santa again without flashbacks.
Army CH 47 Chinook Helicopter Ugly Christmas Sweater, Hoodie, Sweater, Vneck, Unisex and T-shirt
Best Army CH 47 Chinook Helicopter Ugly Christmas Sweater
Entertainment: Dickson street is great, lots of Army CH 47 Chinook Helicopter Ugly Christmas Sweater and good food. There is the Walton Arts Center which has top notch broadway events (musicals, plays, etc). TheatreSquared is also excellent for watching plays. The AMP (Arkansas Music Pavilion) has well known bands/artists every year. There is a Botanical Gardens. Believe it or not, we still have a drive-in theatre which plays current movies and is lots of fun. There is also a retro-arcade, bowling, skating rink, Locomotion (go karts, arcade, mini-golf), Gater Golf (mini-golf), several area Golf courses that are very nice, museums, and lots more. Outdoors: We are right next to the Ozark National Forrest, Beaver Lake, the Buffalo River, White River, Mulberry River, Devil's Den state park, the Ozark Highlands Trail (218 miles through seven counties), caving, rock climbing, hand gliding, scuba diving in Beaver lake, and countless more to do. There is an excellent paved trail system that stretches from south of Fayetteville to the Missouri border with lots of parks and side trails along the way. Everywhere you turn there is hiking, biking, canoeing, geocaching, etc. Enough to never be bored. Community: Excellent Farmer's Market, lots of community outreach programs, excellent public schools and some great private ones also (or so I've heard) Events: We also have lots of events in our area: Bikes Blues & BBQ, Joe Martin Stage Race, First Thursday (every first Thursday downtown), Fayetteville Foam Fest (Local Breweries, Food Trucks, Lots of Beer), War Eagle Crafts Fair, Block Street Block Party, NWA Naturals baseball games, Tri Sport Kid's Triathlon, Fayetteville Roots Festival, Lights of the Ozarks, Ozark Valley Triathlon, Halloween Monster Dash, Color Vibe 5K Run, Primal Challenge.